While we understand that nobody wants to deal with losing a tooth. The one comfort is that there are many tooth replacement options to help you get a full smile back. One of the most advanced treatments that we offer is a system called All-on-4, which allows our dental team to replace an entire arch of missing teeth using only four dental implants. This can be done on both the upper and the lower jaws.
While a single dental implant is used to replace one tooth; it's not practical or needed to place an implant for every missing tooth when you are replacing an entire arch of teeth. With the All-on-4 system, we provide our patients with a more cost-effective and minimally invasive solution for replacing a full arch of teeth. This also allows most patients to get their teeth the same day as the implants are placed. This ensures that patients are never without teeth throughout the implant process.
Once these implants are precisely placed into the jawbone our team can attach the prosthetic teeth, or dentures, to the top of the implants. Each implant is made from titanium, which is a biocompatible material that fuses together with the bone and tissue over several months. This fusion between the bone and the implants ensures that these metal posts become a permanent structure within the mouth that can firmly support your prosthetic teeth. Once healing is complete we can remove the temporary teeth and place the permanent ones on top of your implants.
As you can imagine, the All-on-4 system offers some unique benefits over traditional implants. In fact, since implants are placed differently for this system, this ensures that more patients are candidates for this full-arch tooth replacement. Furthermore, full arch replacement allows most patients to have teeth placed the same day by the dental team. By placing your teeth the very same day as your implants we also ensure that patients are able to chew, talk and smile immediately.
If you are interested in learning more about All-on-4 and how it can replace your missing teeth then call our office today to schedule a consultation with us. Restore your smile after tooth loss with All-on-4.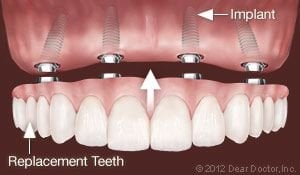 Replace All Teeth Permanently — Implants can support an entire arch of upper or lower replacement teeth that are fixed into the mouth and are never removed. Sometimes the new teeth can be supported by as few as 4 implants. It's comparable to the structure of a table, which only needs 4 legs to hold it up. In cases where jawbone density and volume have deteriorated, 5 or 6 implants might be needed to support a row of 10 to 12 teeth. Dental implant replacement teeth protect your jawbone, won't slip, and should last a lifetime.
Support Removable Dentures — Implants can even make removable dentures more comfortable, effective and healthier to wear. Traditional dentures rest on the gums and put pressure on the underlying bone. This accelerates bone loss so that the jaw shrinks and the dentures slip, particularly on the bottom. But today dentists can attach a removable denture onto implants, transferring that pressure into the bone structure rather than the bone surface. This prevents the dentures from slipping while you eat and speak, and preserves the bone directly beneath them.
Implant Care and Maintenance
There are only two ways an implant can lose attachment to the bone and fail once it has successfully fused: poor oral hygiene or excessive biting forces. Poor oral hygiene and/or a lack of regular cleanings can lead to a destructive bacterial infection called peri-implantitis. Flossing and brushing your teeth on a daily basis, along with regular professional cleanings, can prevent this. Excessive biting forces can come from either a habit of clenching or grinding your teeth, or an insufficient number of implants to handle the forces generated by your bite. You should receive the correct number of implants so this does not happen. And if you have a habit of grinding or clenching your teeth, a nightguard will be recommended to protect your implants. After all, implants are a long-term investment in your smile, your health and your well-being, so it's best to protect your investment.